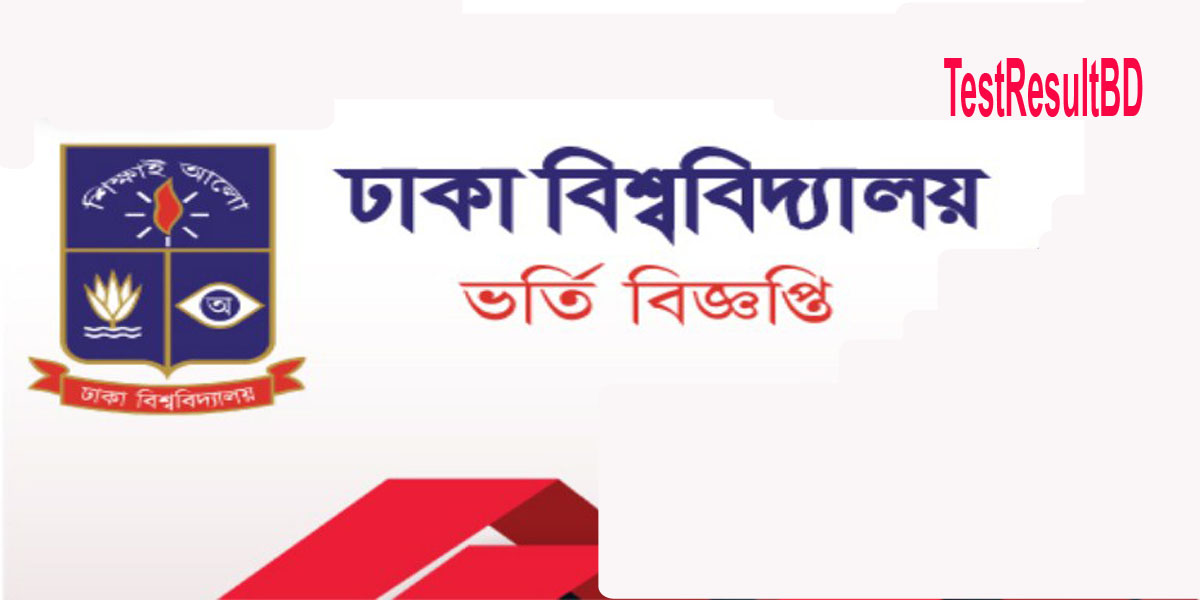 Are You searching Bangladesh Top University DU Admission Notice 2021? Dhaka University (DU) Admission Notice 2021. Honours 1st year admission online application process will be started 05th August afternoon at 5.00 P.m. The application process will continue till 12 pm on (Sunday )August 27th, 2021.
According to the meeting's decision, the DU Admission test for the A-unit will be held on Friday, September 28, KHA-unit admission test on Friday 21th September, GH-unit admission test on September 14th, GHA-unit admission test on Friday, October 12th. CHA-unit admission test (common sense) will be held on Saturday, September 15 and the admission test (drawing) of September 22 is Saturday.
DU Admission Notice 2021
Eligibility to apply for the academic year 2021 at Dhaka University:
In the unit (science) SSC and HSC can apply separately at least 3.5 total if you get 8.00
In the case of B unit (Arts), SSC and HSC will have to get a total of 7.5 overall.
In the case of C unit (Business Education), SSC and HSC will have to get 3.5 a total of 7.5 overall.
And GPA of the respective unit will be applicable for application in the unit.
CHA Unit Apply interested candidate must have ssc and hsc each group 3.00 and total must have 6.50
There is no subject-based condition for the application in the respective units in DUBI. However, in the case of D unit, HSC cannot be applied in English or if any subject is below B grade.
DU Admission Test Date 2020
| | | |
| --- | --- | --- |
| Dhaka University Units | Faculty | Exam Date |
| DU 'GA' Unit Admission Test | Commerce Faculty | 13th September (Friday) 2019 |
| DU 'CHA' Unit Admission Test | Fine Arts Faculty | 14th September (Saturday) 2019 |
| DU 'KA' Unit Admission Test | Science Faculty | 20th September (Friday) 2019 |
| DU 'KHA' Unit Admission Test | Arts Faculty | 21st September (Friday) 2019 |
| DU 'GHA' Unit Admission Test | Social Science Faculty | 27th September (Friday) 2019 |
| DU 'CHA' Unit Admission Test | Drawing | 28th September (Friday) 2019 |
DU Admission Notice  Jpg Image
Dhaka University 'KA' unit Admission Test
DU Ka unit admission test all information we given here. Who wants to admit this unit please see this information.
The MCQ test of 120 marks should be given on four subjects: Physics, Chemistry, Mathematics, Biology. However, if one wishes, Bangla or English will be able to answer only the optional subject in Higher Secondary.
The sum of the GPAs obtained in SSC and HSC (including 4th subject) should be at least 8.00 for admission to the admission test.
DU Ka Unit Admission System
Exam Time:1 hours 30 minutes.
That is, the time will be available for answering each question in just 5 seconds. So the answers to the questions must be small in size. 2/3 step big digits will not be tested.
KA Unit Total number of site
The total number of seats for students of Dhaka University 'A' unit – 1765. The students of the Science Department will be admitted to all 30 departments in the science department by examining 'A' unit at Dhaka University.
Faculty of Science:
1. Physics – 140
2. Mathematics – 130
3. Chemistry – 90
4. Statistics, animal statistics and data statistics – 88
5. Applied Mathematics – 75.                                                                                                                          6.Theoretical Physics – 25
Faculty of Biology
1. Soil, water environment – 120
2. Plant Science-75
3. Zoology – 100
4. Biochemistry and Motivation Science – 60
5. Psychology- 45
6. Life science – 40
7. Fisheries Science – 40
8. Gene Engineering and Biotechnology – 17
Faculty of Pharmacy:
1. Pharmacy – 65
Faculty of Earth and Environmental Sciences:
1. Geography and environment – 50
2. Ghost-50
3. Marine Science – 25
4. Disaster Science and Management – 30
Faculty of Engineering and Technology:
1. Electrical and Electrical Engineering – 70
2. Applied Chemistry and Chemistry-60
3. Computer Science and Engineering – 60
4. Nuclear Engineering-25
5. Robotics and Mechatronics Eng – 20
Statistics Research and Teaching Institute
1. Applied Statistics – 50
Nutrition Dietetics Institute:
1. Nutrition Dietetics- 35
Information Technology Institute:
Software Engineering – 30
Leather Engineering and Technology Institute:
1. Leather Engineering – 50
2. Footwear Engineering 50
3. Leather Products Engineering-50
DU KHA Unit Admission 2020-21 Information
DU KHA Unit Admission Test. Who wants to admit DU KHA Unit this post for you. You can easily get your necessary information by this post. The total number of seats in the B-unit at Dhaka University is 2,333.
Interested Candidates must have total GPA of 7.00 (with 4th subject) in SSC and HSC level exams.
Faculty of Arts:. Bengali,  English,  Arabic, Persian Language and Literature,  Urdu,  Compilation, Pali and Intellectual Studies, History Philosophy, History and version of Islam, Islamic Studies, Information Science and Library Management, Linguistics, Dramatic arts and music, World theology.
Faculty of Social Sciences:  Economics,  Political science, Anthropology, Public relations and journalism, Sociology, Public Administration, International Relations, Study of peace and conflict, 1. Women and Gender Studies, Development Studies.
Faculty of Law: Law.
Faculty of Science:  Geography and Environment.
Faculty of Biology:  Psychology
Social Studies and Research and Institute: Social welfare.